YOUR TIME!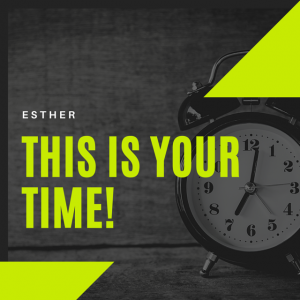 In professional football, especially at the quarterback position, timing is everything. In a few seconds, the quarterback reads the defense, makes the necessary adjustments, takes a three, five, or seven step drop to scan the field, throws the ball before his receiver makes his break, and places the ball in the perfect spot to give his receiver the best opportunity to catch it. It's mind-blowing. There's a reason why the quarterback is the highest paid player on a professional football team.
Caleb
My eldest grandson's name is Caleb. It's a great Biblical name. He's now the starting quarterback at his high school. Caleb spends hours watching the tape, memorizing the playbook, making audibles at the line of scrimmage in practice, and throwing timing passes to his wide receivers. He loves it. He enjoys the limelight. Caleb was made to play quarterback.
He's a big strong young man. Confident. When he was younger, he'd say, "Got to grind, grandpa, got to grind." Translation: he needs to put in the practice time to get better.
He is blessed with a big arm. As a freshman, I watched him roll to his left, throw across his body, and hit a perfectly timed fifty-yard pass to his wide receiver in the end zone. The crowd went crazy. I may have yelled a little also. Okay, a lot! Did I say he had a cannon for an arm!
Esther
Just like in sports, timing is essential in anything we do. For one young woman, her sense of timing was the difference between life and death. Now, that's pressure.
Her name was Esther. Her name comes from the Persian word that means "star." There is an entire book of the Bible named after her. She was the real deal. A true star. She was a beautiful Jewish woman who, because of some strange circumstances, had the opportunity to become the queen of Persia. This was important because God placed her in that position to save her people from total annihilation.
A high-ranking Persian official named Haman devised a plan to kill all the Jews in Persia. Haman's disdain for the Jewish people came from an encounter he had with Esther's uncle, Mordecai. In Esther chapter three, Haman was insulted because of Mordecai's refusal to bow to him. Talk about holding a grudge!
When Mordecai found out about Haman's murderous plan, he persuaded Esther to speak to Xerxes, the King of Persia. This was a sensitive issue. If Esther talked to the king at the wrong time, she could insult the king and be instantly killed. If she didn't speak to the king, hoping the problem with Haman would go away, she and all the Jews would eventually be destroyed. Esther was between a rock and a hard place. Finally, in Esther 4:14, Mordecai gives her a question to think about, "Who knows but that you have come to your royal position for such a time as this?"
Positioned for a Purpose
God placed her in that position, at that specific time, to accomplish a task to save His people. She had choices to make. She could have barged in on the king and, most likely, be killed. Esther could have done nothing and remained frozen in fear with the end result being death. She could have ignored the problem and hoped that she would survive even if the rest of the Jewish nation would be killed. But she didn't do any of those things.
She realized this was her time. She made up her mind to take a risk and talk to the king. She did it wisely. She did it at the right time. Esther sucked it up and made the big ask. And eventually, the king heard her plea.
The Problem
I think too many of us miss out on our time.
We don't take risks.
Fear grips us.
We don't take steps of faith.
The potential of failure keeps us stuck.
I believe God is waiting for His next Esther, His next quarterback to go do His work, in His timing. I think God is waiting for the next Esther to go out and do great things for God. We may not throw touchdowns in a Super Bowl, and we may not save a people from certain death, but we may be used by God to do what we were created to do for such a time as this. Believe it, this is your time!
Something to think about.
Something to pray about.
Something to act on, in His timing.