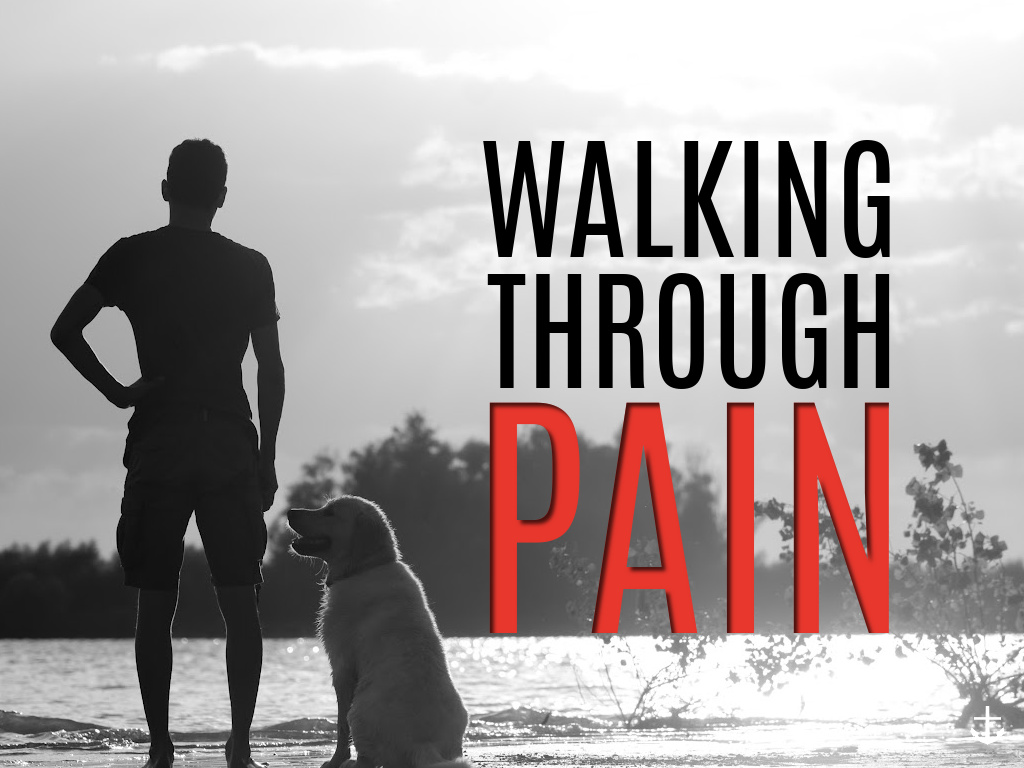 Pain happens.
We can't escape it.
Pain, as Thanos, from Marvel Comics would say, is inevitable.
So what do we do when we are confronted with an unexpected event, injury, heartbreak, or health crisis?
Three Choices
We have three choices.
We can give up because of the pain.
We can give in to the pain.
We can give it all to Jesus and walk through the pain with Him.
Through heartache, loss, disease, and injury I chose to give it all to my Savior and Lord and walk through the pain with Him. You may be asking, "How?"
Six Steppingstones
I learned through the Bible about six steppingstones that, over the years, have helped me walk through the pain. Imagine a creek with these stones scattered in different parts of the creek but close enough to step from one to the other. They are not perfectly lined up but they will help you get from one side to the other.
These steppingstones are not magical. They will not take away the pain. There will be times that you will slip off one of the stones and fall in the creek. That's life. We all get wet occasionally. When we do, we need to look up and ask God to help us, and guess what, he will. He will pull us out of that creek and place us on a firm steppingstone to continue our journey with him.
The stones will not take away your pain, but you will have the Biblical tools necessary to walk through the pain with Christ.
The six steppingstones go as follows:
Acknowledge it.
Confront it.
Question it.
Feel it.
Accept it.
Change it.
An Example
For example, when I went through two back surgeries in my late 30's my life was forever changed. I was told by my surgeon that if I didn't change things I could be crippled and in a walker. That was a wake-up call. I struggled with not only the pain but how much my life would change. I had always been an active person and my attitude began to get worse.
I cried.
I whined.
I pleaded.
I begged.
Eventually, I went to God, and He taught me through His Word these six steppingstones that changed my life.
First, I acknowledged the pain for the first time. I acknowledged I was powerless over what had happened to me and I needed His help.
Second, I confronted the pain. I was not going to give in to it or give up because of it.
Third, I questioned why this happened to me. I asked God some tough questions. By the way, God is big enough to handle our questions and it keeps the line of communication going. The key was not to keep questioning but to remember that Jesus will help me through the pain.
Fourth, I allowed myself to process and mourn over the changes that took place because of the pain.
Fifth, I began to accept the changes that had taken place in my life by making four daily decisions.
Sixth, I made the necessary changes in my life despite the pain and chose to live well.
My back still gives me problems, but I have learned to adapt. I enjoy life. I continue to stay fit, and I try to fully enjoy the moments God allows me to experience.
Interested?
If you are interested in learning more about God's six steppingstones, go to this link Walking Through Pain – YouTube , the entire series of sermons is there for you to watch.
David Towner is the author of Today Is My Favorite Day and has been the senior pastor of The Harbor Church in Odessa, Fl, for over twenty-three years. He is married to his wife, Tonya. They have three beautiful girls and four fantastic grandsons.